Raspberry Lemon Thumbprint Cookies
sripi.g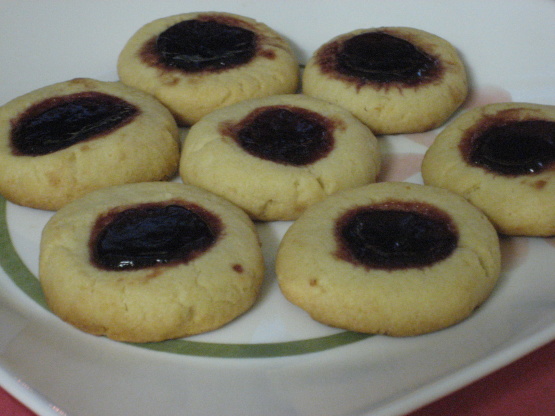 These cookies are in regular rotation at our house. The raspberry and lemon contrast nicely! I found this recipe at foodtv.com. Thank you for recipe. I like jelly filled cookies. I had not any lemon and raspberry jam at my kitchen. I was very lazy to go to the super for lemon and jam. And I filled some of these cookies with lemon jam and some of them with blackberry jam. I add 1 tsp of cinnamon, 1/4 tsp of ginger and 1/4 tsp of nutmeg for flavor. They became very Christmas cookies. The next time I'll make them with raspberry jam and lemon zest. It is very good basic recipe for cookies.
Preheat the oven to 350 degrees F. Lightly butter 2 large baking sheets.
In a medium bowl, combine the flour, baking powder, and salt and whisk to blend.
In a large bowl using an electric mixer, beat the butter and sugar until light and creamy. Beat in the egg yolks, lemon zest, lemon juice and vanilla. Add the flour mixture in 2 additions and beat just until moist clumps form. Gather the dough together into a ball.
Pinch off the dough to form 1-inch balls. Place on the prepared baking sheets, spacing 1-inch apart.
Use your floured index finger or 1/2 teaspoon measuring spoon to create depressions in the center of each ball. Fill each indentation with nearly 1/2 teaspoon of the jam mixture.
Bake until golden brown, about 20 minutes. Transfer the cookies to wire racks to cool completely.