Elodie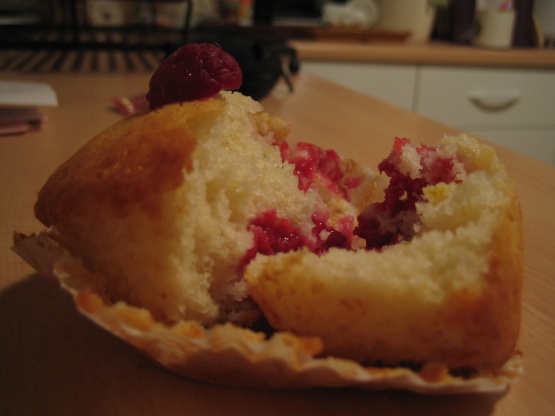 I have not tried this recipe yet. I keep forgetting to get the raspberries at the store. But I thought it sounded good enough to share.

Top Review by Ms B.
I have made this recipe as written and found the muffins to be very moist and flavorful. I have also made it with lemon yogurt and frozen blueberries. These muffins were awesome. I loved the lemon/blueberry flavor. The base recipe is great and can be adjust to yogurt and fruit that is available.
Preheat the oven to 400 degrees F (200 degrees C).
Grease a 12 cup muffin tin, or line with paper liners.
In a large bowl, mix together the yogurt, oil, lemon juice, egg whites, and, if using, lemon extract.
In a separate bowl, stir together the flour, 3/4 cup sugar, baking powder, salt, and lemon zest.
Add the wet ingredients to the dry, and mix until just blended.
Gently stir in the frozen raspberries.
Spoon batter evenly into the prepared muffin cups.
Sprinkle remaining sugar over the tops for decoration, if desired.
Bake for 15 to 17 minutes in the preheated oven, or until the top springs back when lightly touched.
Cool muffins in the tin on a wire rack.