Raspberry-Laced Vanilla Cake
sripi.g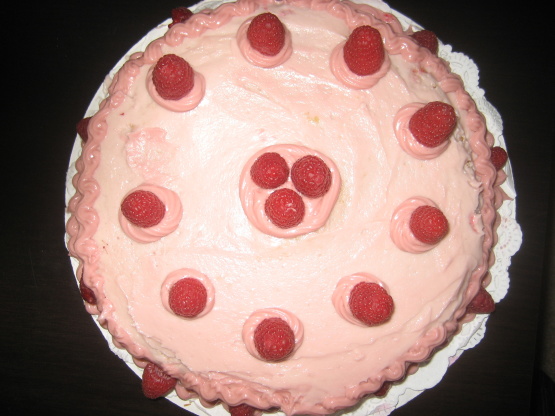 From a box of Pillsbury Softasilk Cake Flour

This cake is WONDERFUL though I had it made as cupcakes. I am a big fan of the CUPCAKE CAFE's tasty, yet expensive cupcakes. And I would have to say that it is a toss up as to whether they have the better cakes, or if this is the winner. These are light, not quite as moist (certainly not as dense) and the frosting has a fantastic flavor with a distinctive raspeberry flavor that is not overpowering or overly sweet. You just can't help but eat one (or more) too many of these. (By the way, they were made minus the raspberry jam.) Glad you posted the recipe, thanks!!!
Heat oven to 350.
Grease and flour three 9 incn round cake pans.
Mix flour, baking powder, salt, and baking soda; set aside.
Beat butter and sugar in large bowl with electric mixer on high speed, scraping bowl occasionally, until fluffy.
Beat in flour mixture, milk, vanilla, and eggs on medium speed until blended. Beat 2 minutes longer. Pour into pans.
Bake 25 to 30 minutes or until toothpick inserted in center comes out clean. Cool ten minutes, remove from pans to wire rack, cool completely.
For frosting beat butter and powdered sugar in medium bowl on medium speed until smooth. Gradually beat in liqueur and vanilla until smooth and spreadable.
Cut each cake horizontally to make 2 layers. (Mark side of cake with toothpicks and cut with long, thin, serrated knife.) Place 1 layer, cut side up, on serving plate; spread with 1/3 cup raspberry jam to within 1/4 inch of edge. Top with another layer, cut side down, spread with 1/3 cup frosting. Repeat with remaining layers.
Frost side and top of cake. Pipe remaining frosting on top of cake, if desired. Garnish with fresh raspberries, if desired. Store loosely covered at room temperature.