neableker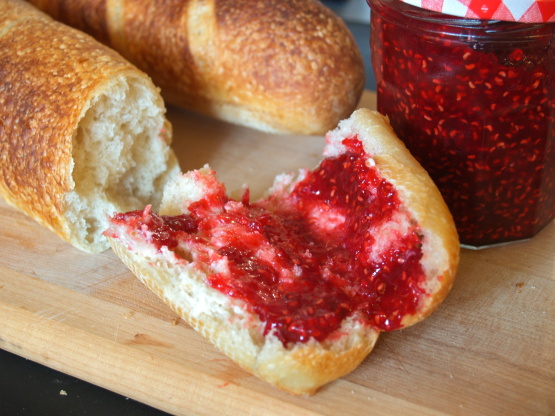 Excellent jam and no Certo needed. The raspberries have natural pectin in their seeds and that is enough to thicken it. 5 lbs = 9 cups crushed berries.

Excellent jam!!! I added a tablespoon of lemon juice as well (we like our jam a bit tarter). And I didn't mash the berries or use a rotery beater (I like chunks in my jam). Skimmed the foam (there was hardly any) and sealed in hot sterilized jars. Jam is a BEAUTIFUL jewel tone with seeds evenly suspended throughout. I have tried many different recipes and they were either too sweet or cloudy or the seeds floated to the top. This recipe yields INCREDIBLE results with minimum fuss. This is my new, and ONLY, raspberry jam recipe. On behalf of my family and myself- THANK YOU!!!!
Use a very large pot.
When the jam reaches a full rolling boil it will double in volume.
Heat mashed berries until they reach a full rolling boil.
Boil 2 minutes.
Add sugar.
Stir well.
Bring to a boil, stirring constantly, boil for 2 minutes.
Remove from heat.
Beat with rotary beater for 4 minutes
Pour in sterilized jars and seal.