KGCOOK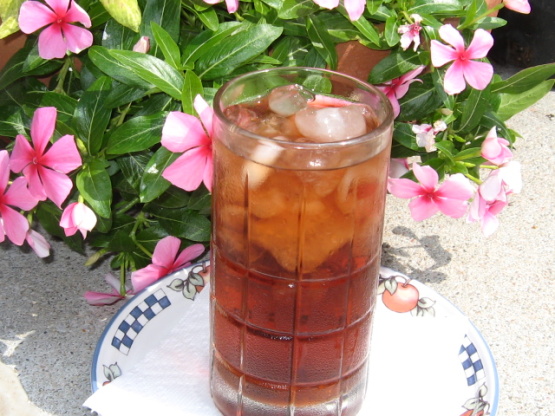 I never thought that I would enjoy fruit teas as much as do until I had a glass of raspberry iced tea. Refreshing and delicious. I tried several ways and then this way. The blend is not too strong or weak, and not too sweet. Although if you want to you could add more sugar if you like.

I've made this tea several times, and found I like it even more, using 5 Bigelow Raspberry Royale Tea Bags, instead of just the one raspberry tea bag, and 4 regular tea bags. While the flavor of the raspberry doesn't come through as much as I'd of liked. I do like that this tea has a nice strong tasting tea-flavor. One thing I did want to mention... while removing tea bags from the coffee pot, the tea is extremely 'hot', as are the tea bags, so be careful not to burn your fingers. Also, after I brewed and steeped the tea, I placed the coffee pot on my stove to cool down the tea, which took 2 hrs. & 30 mins., I then added/stirred in the packet of iced tea mix. This really was an easy way to make ice tea, and thank you KGCOOK for posting this recipe!
4

celestial seasonings tea bags

1

Bigelow raspberry royale tea bag

1

ounce raspberry iced tea mix (I use Crystal Light)
Fill Coffee maker with water to 12 cups.
Put all 5 tea bags in bottom of pot.
Brew the water.
Shut warming plate off and allow pot to steep 5 minutes with teas bags in it.
Remove tea bags.
Pour into 2 quart sized pitcher.
Add enough water to fill to 2 quarts.
Add 1 tub of Crystal Light to pitcher and stir.
Refrigerate until cold or serve over ice when ready to enjoy.
If you like to garnish, add fresh raspberries to each glass and maye a thin slice of lemon.