Raspberry Green Chile Jam
Rita1652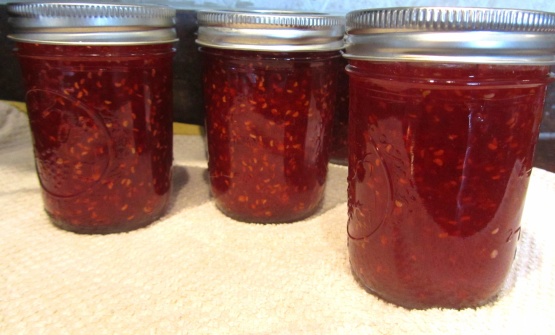 A zingy twist on raspberry jam from the University of New Mexico. Try this on your morning toast, as a glaze on chicken or pork or over a brick of cream cheese and served with crackers.

I recently purchased Habaneros and raspberries, came across this recipe and thought why not!
I used 24 ounces of fresh raspberries packed into a to 4 cups. 4 cups sugar not the 6 using low sugar pectin, 1 cup minced habaneros that was 21 chili`s. And added a sliver of butter to cut the foam. This is super hot stuff just the way DH likes it! Thanks Molly!
Combine raspberries, green chile, pectin, water, and lemon juice in an 8-quart non-stick pan.
Bring to a boil over medium-high heat, stirring constantly.
Add sugar all at once.
Return mixture to a boil, stirring constantly.
Boil hard for 1 minute.
Remove from heat.
Ladle hot jam into hot jars, leaving a 1/4-inch headspace.
Place lids and screw on bands fingertip-tight.
Process in a boiling water bath for 10 minutes, adjusting processing time for elevation as necessary.