Juenessa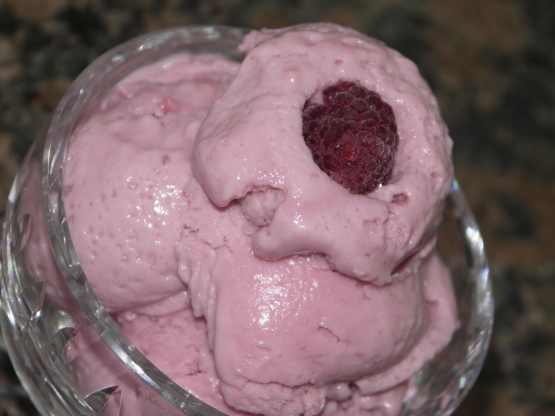 Recently someone gave me an ice cream maker and that has sent me hunting for frozen treats that are fruit filled and relatively healthy. Love berries so this one grabbed me. Planning to try it as a mixed berry frozen yogurt next. Be aware that nonfat frozen confections are best eaten fresh or after freezing for just a few hours. After a day or two they tend to get a bit icy. The original was found on fooddownunder.com.

This was the first time I had made frozen yogurt and it was excellent! I added 2 teaspoons of Splenda for my sugar substitute and it was just right. The yogurt was light and creamy with a wonderful, raspberry flavor. Oh just one thing, after I pureed the frozen raspberries in my food processor, they were still too frozen to strain. So, I stuck them in the microwave for about 1 minute and 30 seconds and this helped to defrost the raspberries and make them a little juicy so I could strain them. Thanks so much, Toni!
In a small saucepan, combine 1/4 cup water with gelatin allowing it to stand 1 minute. Cook over low heat and stir until gelatin dissolves. Set aside.
In blender or food processor fitted with metal blade (I used hand held blender) puree berries. Strain; discard seeds.
Combine pureed berries with Equal and dissolve gelatin. Stir in in yogurt.
In a small bowl, combine egg white with 1/3 cup water and dry milk. Beat until stiff but not dry.
Fold into raspberry mixture.
Freeze in ice cream maker according to directions.