Raspberry Daiquiri (Virgin)
momaphet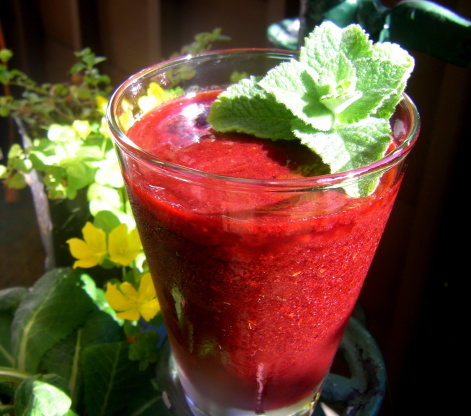 Summer drink you won't want to miss! This would be good with other berries too! The name Daiquirí is also the name of a beach near Santiago, Cuba, and an iron mine in that area. The cocktail was invented about 1905 in a bar named Venus in Santiago, about 23 miles east of the mine, by a group of American mining engineers. The daiquiri was one of the favorite drinks of writer Ernest Hemingway and president John F. Kennedy. This recipe is Cuban and Northeastern.
This was simple and refreshing. I made a single serving, used frozen raspberries with some blackberries and added an ounce of light rum. Even with the frozen berries half way through I wanted the drink a little colder and added a couple more ice cubes. I wish the seeds were less but not enough to bother straining them. Made for The Comfort Cafe July 09
Put the raspberries, limeade, and ice in a blender.
Process until smooth and pour into 2 glasses.
Garnish with mint sprigs and serve. Enjoy!