Pikake21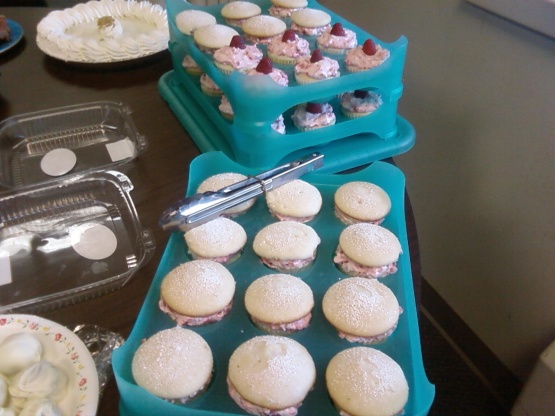 I got this recipe from Giada De Laurentiis' show Everyday Italian. They are so easy to make, but very aesthetically pleasing as well. The whipped cream is a light and refreshing touch to the cupcake.

These are amazing!! They are so light and really perfect for summer. I initially had a problem with the filling as it would not thicken up, after adding a good bit of powdered sugar I decided to add some all purpose flour and it worked perfectly. Love, love, love them, I will definitely be making these again!
Line 18 muffin cups with muffin papers. Preheat the oven to 350 degrees F.
Using an electric mixer, beat the cake mix, water, egg whites, melted butter, almond extract, and vanilla extract in a large bowl for 2 minutes, or until the batter is well blended. Using about 1/3 cup of batter for each cupcake, spoon the batter into the prepared muffin cups.
Bake the cupcakes until they are very pale golden on top, about 15 minutes. Cool the cupcakes completely on a cooling rack.
Using a fork, coarsely mash 1 1/2 containers of raspberries in a medium bowl. Beat the cream and 1/3 cup of powdered sugar in a large bowl until firm peaks form. Fold the mashed raspberries into the whipped cream.
Remove the muffin papers from the cupcakes and cut the tops off of each cupcake. Spoon the raspberry whipped cream atop the cupcake bottoms. Place the cupcake tops on the cupcakes. Dust with more powdered sugar and serve with the remaining berries.