Raspberry-Cranberry Salad (with sour cream-cream cheese topping)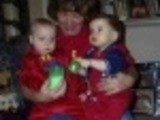 This yummy recipe is and has been a staple and favorite dish in our family esp. at Thanksgiving and Christmas for many years. We like the tang of the cranberry softened with the other ingredients. It makes a wonderful side dish and can pass as a dessert, too. It would be good anytime you were serving a turkey, chicken or ham dish.
Directions
Mix jello with the two cups of boiling water till disolved.
Add the can of pineapple including the juice and the whole cranberry sauce and nuts.
Let set in bowl or mold of choice.
Blend the cream cheese, sour cream and sugar well.
After jello has set, spread on top.
Most Helpful
I can't believe I haven't rated this yet. I used sugar free jello, cut back on the pecans, light cream cream and light sour cream and splenda. It was fantastic and disappeared quickly. Thanks Trisha for a great recipe.
We make this in a 9x13 dish instead of a bowl. Other than that, it is exactly like our traditional Thanksgiving cranberries. It's one of my absolute favorite ways to eat them. The topping is a nice contrast to the jello/cranberry layer. Even the cranberry haters started eating them when we started making this dish.
This was very good. I enjoyed the cranberry, raspberry and pineapple together. Everyone liked it at Thanksgiving. I left out the nuts. The topping wasn't as fluffy as I expected it to be but still tasted good. I might try blending the topping with my mixer next time. Update: I've made this countless times since I first reviewed it. It has become one of my go to recipes to bring to holiday potlucks, and one of my most requested recipes as well. I've never tried it with the nuts though.