truebrit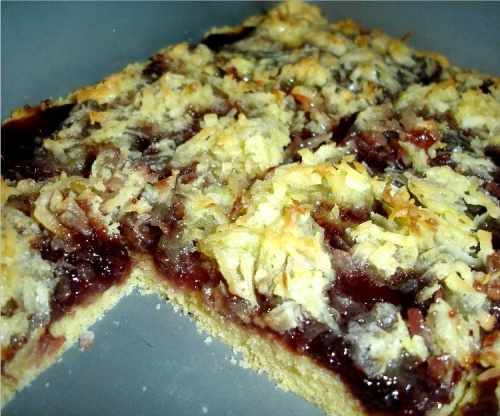 This never lasts long in our house and I'm always getting begged for more! It's pretty simple to make so I don't mind at all! :>)

I decided to bake this as one of this year's Valentines Day desserts. It was very easy to prepare, and the end result was a deliciously sweet treat! I needed to bake it in a 13" x 9" pan, which is larger than specified, so for the shortbread layer, I used an extra 1/4 cup of flour, and an extra 1/4 cup of self-rising flour, and I also increased the sugar by one tablespoon. I increased the jam by 1/4 cup, and to the topping, I added an extra 1/4 cup of coconut, and an additional tablespoon of sugar. I baked it in a 350 F oven for 25 minutes. This dessert was delicious, and I'll certainly be making it again!
Combine first three listed dry ingredients in a bowl. Rub in the butter.
Mix into a soft dough with one lightly beaten egg.
Press the dough evenly over the base of a well greased 28 x 18 cm tin. (A metal spoon works well here).
Spread the jam evenly over the dough.
Topping: Beat the second egg together with the sugar. Mix in the coconut.
Spread the topping evenly over the dough and jam.
Bake in a moderate oven for 25 - 30 minutes. (Until golden brown).
Cut in tin when cool.