Nimz1466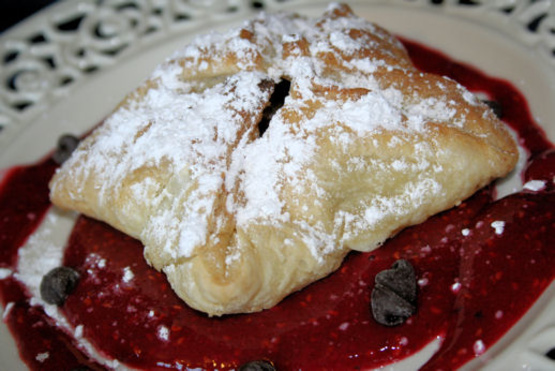 I tried this one several years ago from a Taste of Home book I had. Very easy, elegant and good.

Mmmmm! So so so good. The only raspberry chips I could find were dark chocolate baking pieces filled with raspberry creme so I gave them a shot and they worked great. I used roasted salted pecans because I had them on hand. I skipped the sauce this time but will try it next time. My pouches didn't stay closed very well once the pastry started to puff but the filling didn't run out so all was good in the end. I made just half the recipe since I was only making it for myself. Next time I will make for company. Thanks for posting!
In a bowl, combine the chips and pecans.
On a lightly floured surface, roll each pastry sheet into a 12-in. square.
Cut in half lengthwise and widthwise, making eight 6-in. squares.
Spoon the chip mixture in the center of each square.
Pull all corners together below the tips of the corners, forming a pouch.
fold the corner tips down.
Place on an ungreased baking sheet.
Bake at 425° for 18-20 minutes or until golden brown.
Remove to a wire rack to cool.
In a food processor or blender, puree raspberries and confectioners' sugar.
Strain and discard seeds.
Spoon raspberry sauce onto dessert plates; top with pastry pouches.
If desired, garnish with raspberries and chips; dust with confectioners' sugar.