Raspberry-Chocolate Chip Muffins
Carrie D.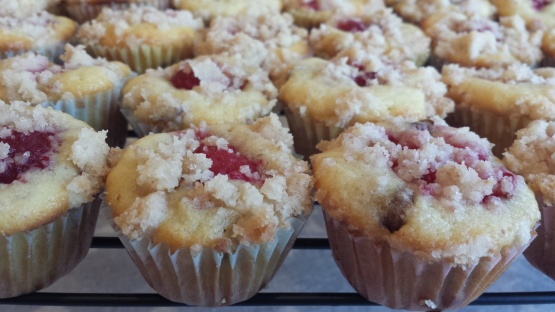 One word: Mmmmmm! Adapted from a King Arthur Flour recipe. Tried it with blueberries and it was awesome!! I have changed the temperature of the oven for 350 as 400 was a bit too high. :)

Top Review by litvat
Excellent Muffin Recipe! I didn't use the crumb topping, and made a few small changes: I used butter instead of margarine; I mixed 4 tsp. of instant coffee into the milk; I added 1tsp. Vanilla; I used more raspberries (2pts) & mixed them right into the batter rather than adding them at the end. Very moist, great texture & nice flavor. Will definitely make again!
Preheat your oven to 350°F Lightly grease (or line with cupcake papers) a 12-cup square or standard muffin pan; or lightly grease a silicone muffin pan.
Prepare the crumb topping by mixing the ingredients together until very moist and crumbly. Set aside.
In a large bowl, whisk together the melted margarine, milk, and eggs. In a separate bowl, whisk together the flour, sugar, baking powder, salt, and chocolate chips. Add the dry mixture to the liquid and stir until combined.
Divide the batter evenly among the muffin cups. Push three small or two large raspberries down into the top of the batter; they don't need to be covered by batter. Sprinkle with the crumb topping, using a slightly heaped tablespoon for each muffin.
Bake the muffins for 20 to 25 minutes, until they are golden brown and feel set when you touch them in the middle. Remove them from the oven, and let them stand for 5 minutes before removing from the pan.