Raspberry Chicken for the Slow Cooker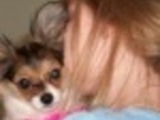 When I make this, my family jokes that I'm "cooking gourmet". Nice tastey dish with very little effort.
Directions
In slow cooker combine rice, chicken broth, and ginger.
In a small bowl mix preserves and mustard. Stir into rice, and broth. Add chicken and pineapple.
Cover and cook on low-heat setting for 3 hours or until liquid is absorbed and chicken is cooked to 170 degrees.
Most Helpful
My family really didn't care for this at all. It had a very... unusual taste, and the texture was um... icky. I think maybe the recipe has been posted wrong?? I can't imagine anyone enjoying this meal.
This was truly awful. The rice was mushy, the reaspberry seeds were terrible! The taste was pretty bland, I had to add more herbs and lots of pepper. It was easy to make, but I will not be making this dish again.
It was pretty easy to make... the taste was okay... but the texture was horrible!!! You can't buy raspberry preserves w/ out seeds (I couldn't find any anyways) When it was all cooked you couldn't see the seeds, but the texture was kinda crunchy from the seeds... It kinda grossed me out...it totally took away from the taste. The recipe would probably be good if you could us a fruit preserve w/ out seeds..but then I don't know how that would counteract w/ the dijon. I probably won't make this again unless I can find a preserve w/ out seeds.