Ann 3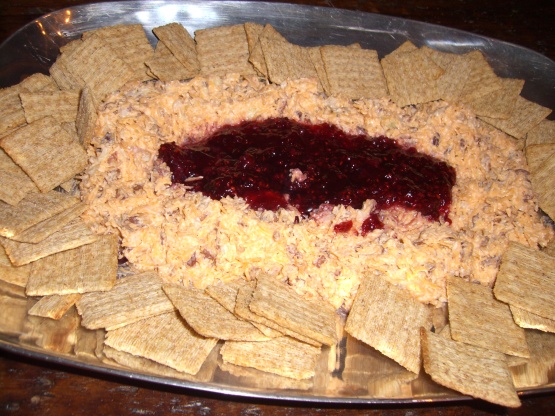 This appetizer can be made low fat and still taste great. The nuts and the jalapeño raspberry make it slightly different than other versions and I like the additions.
1

lb cheddar cheese (grated, sharp)

1

cup mayonnaise

1

small onion (grated)

1

cup nuts, finely chopped (I use pecans)

1

dash cayenne
raspberry preserves (I prefer a fiery jalepeno raspberry ambrosia by Praire Thyme)
Mix cheese, nuts, mayonnaise and onion until well blended in a bowl.
Stir in cayenne and black pepper to taste.
Can be chilled overnight or served.
I spread it around the outside of a platter and leave a space in the center to pour the preserves into.
Serve with wheat crackers. I personally prefer Triscuits.