Raspberry-Champagne Cocktail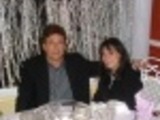 This appealing Champagne cocktail has a hint of raspberry that is guaranteed to be a hit at your next party!
Directions
Pour 1 T. vodka into each of six Champagne flutes. Swirl glasses to coat with vodka. Fill with Champagne. Add raspberries and serve.
Reviews
Most Helpful
Made this for Easter and PAC Spring 2012. Very good fancy drink. We forgot to take a picture of it....