Raspberry Bread & Butter Pudding
Elkaybee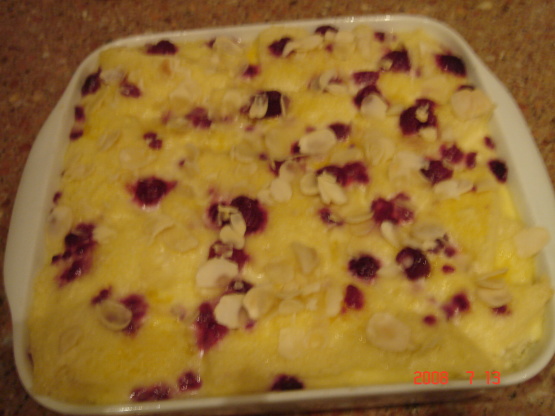 I found this recipe amongst my mum's magazine clippings from the 80's, I haven't tried it yet but it looks & sounds fantastic! I guess you could use fresh raspberries instead of frozen if you wish.

This recipe is superb. I decided to akter it slightly by adding a thin layer of marzipan in between each layer of bread, with outstanding results. I served it with double cream mixed with amaretto liqeur. At my dinner party, a couple of my guests who confessed to be "non dessert lovers" said it was absolutely marvellous and gulped it down. Great success & I'll definately do this again.
Grease a 6 cup capacity ovenproof dish.
Preheat oven to 180c/350 degrees F.
Combine milk, cream& sugar in pan- stir over heat, without boiling, until sugar is dissolved.
Once sugar has dissolved, bring to the boil, remove from heat; stir in essence.
Cover, stand 10 minutes.
Meanwhile, cut crusts from bread.
Butter slices on one side; cut each slices into four triangles.
Overlap triangles in prepared dish; top with raspberries.
Whisk eggs until combined; gradually whisk in milk mixture.
Strain mixture, then pour over bread.
Place dish in a large baking dish, add enough boiling water to come halfway up sides of baking dish.
Sprinkle on almonds and dust with icing sugar.
Bake uncovered in oven about 45 minutes or until just set.
Serve warm with extra raspberries.
*Bestmade just before serving.
*.