Raspberry Blueberry Star Tart
Kathy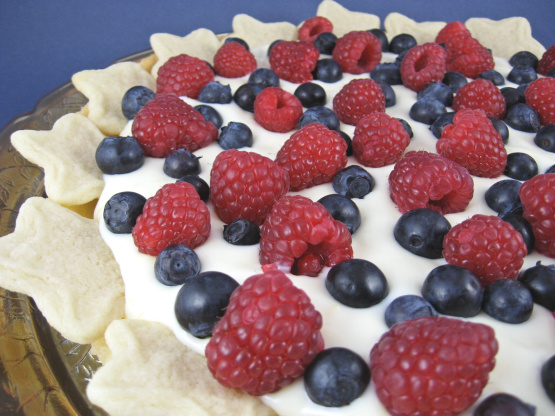 A fairly quick and easy to make summer tart. I have also made the crust with puff pastry (square shape).
Four hours before serving: Preheat oven to 375°F Generously grease the bottom and sides of a 9" or 11" round tart pan.
Using one package of cookie dough, flour/grease hands and pat dough onto bottom and up sides of tart pan.
Make decorative cookie stars: Roll out remaining dough on a floured surface; cut out star cookies.
Place on ungreased baking sheet, and sprinkle with coarse sugar.
Bake crust 12-15 minutes and cookies 3-4 minutes; cool.
Filling: Combine condensed milk, sour cream, lemon peel, and lemon juice; stir 3 minutes or until thick.
Cover and chill up to four hours.
Assemble tart: Loosen and remove sides of tart pan; leaving bottom of tart pan under the crust. You can use the star cookies as a border in the event the sides of your cookie tart break off.
Spread filling on the crust; top with berries and star cookies.