GaylaJ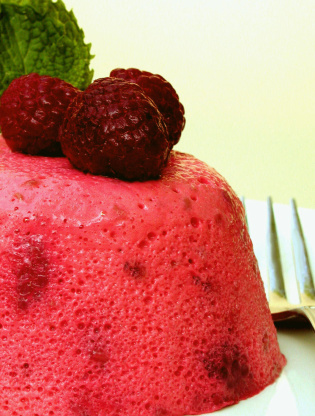 Another great recipe from my great hometown Supermarket!

Top Review by GaylaJ
I served this as a diabetic dessert alternative for Easter dinner. I poured part into a mold and the rest in individual ramekins. Although I had every intention of following the recipe, my shopping trip for the ingredients wasn't exactly fruitful. :) There were no canned rasberries and they were out of fresh, so I used a 12-ounce package of frozen rasberries (thawed) for the recipe and additional ones for garnish. Also, the only evaporated milk choice was between fat-free and regular. Since I doubted the fat-free would thicken much when whipped, I used a can of regular. I think next time I would just sub some whipping cream. Anyway, this was an enjoyable, light dessert and a nice option for our diabetic guests. Thanks for posting!
Drain raspberries over a bowl, reserving juice.
Add enough water to juice to make 1-1/4 cups.
In a saucepan over low heat, stir juice mixture and gelatin.
When gelatin dissolves, remove from heat and set aside to cool.
In a large bowl, beat evaporated milk until thick.
Add raspberries and cooled gelatin mixture and mix well.
Pour mixture into a glass serving bowl. Cover and refrigerate until set.
Turn out mold onto a serving plate. Decorate with raspberries and mint sprigs before serving.