lets.eat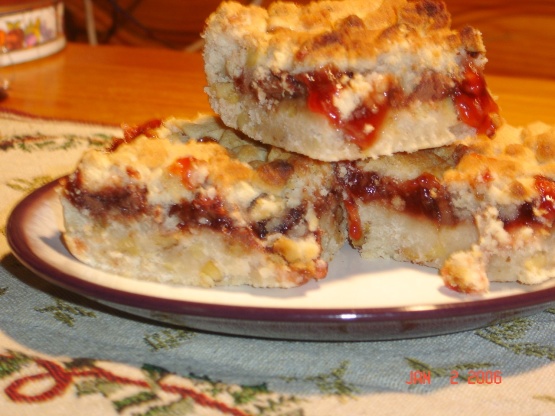 I made these for the first time this Christmas, and they are destined to become a "regular" on my list every year. If you don't like raspberry, I'm sure any other flavor of preserves would be equally delicious!

This is an oldie and a goodie...........rather than raspberry or any other jam we prefer lemon curd. It is is just another filling that can be used but have tried many over the years. Thanks for reminding me (and everyone else out there) how good these are. Butter is definnitely the only way to go......
Preheat oven to 350 degrees F In a large mixing bowl, combine flour, sugar, pecans, butter& egg.
Beat at low speed, scraping bowl often, until mixture is crumbly (about 2-3 minutes).
Reserve 1 1/2 cups crumb mixture; set aside.
Press remaining crumb mixture on bottom of greased 8- or 9-inch square baking pan.
Spread preserves to within 1/2 inch of edge.
Crumble reserved crumb mixture over preserves.
Bake 40-50 minutes or until lightly browned.
Cool completely; cut into bars or squares.