momaphet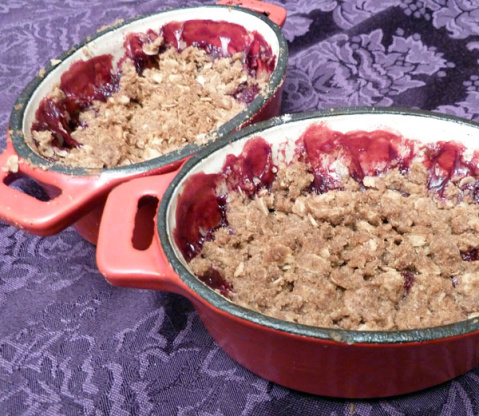 I looked here on Zaar, but didn't find this one, which is heavier on the raspberries rather than on the apples. Sounds great to me. This was in my local newspaper today, and I'm going to try it this weekend. I bought Granny Smiths for the tartness.
This is quite yummy! I cut the recipe down to two servings and baked them in individual dishes. This allowed me to make my DH's with Brown Sugar Splenda and mine with regular. I increased the cinnamon to about 1/2 tsp for each. DH especially enjoyed the dominance of the raspberries - you could barely tell there were apples. I used a granny smith apple and the next time I would either use a sweeter apple or add a little bit of sugar to the fruit as this was quite tart. The topping is not overly sweet (a good thing) - I added a few walnuts to mine and I liked the crunch. I used frozen raspberries and was concerned they might come out to soupy but - it was not a problem, the consisency was perfect. I topped ours with whipped cream - a little ice cream could solve the tartness issue :)
Thanks for sharing Chef PotPie. Made for the ZWT 7 Swiss Baking challenge for the Food.commandos
Preheat oven to 350°F.
Toss together berries and apples, spread evenly over bottom of 8X8 baking dish.
In medium bowl combine sugar, flour, cinnamon and oats.
Using pastry cutter work butter into oat mixture until crumbly.
Spread over fruit, pressing down lightly.
Bake 40-45 minutes or until top is lightly browned.
Cool before serving. Top with whipped cream or vanilla ice cream.