Raspberry and White Chocolate Fudge Brownies
kolibri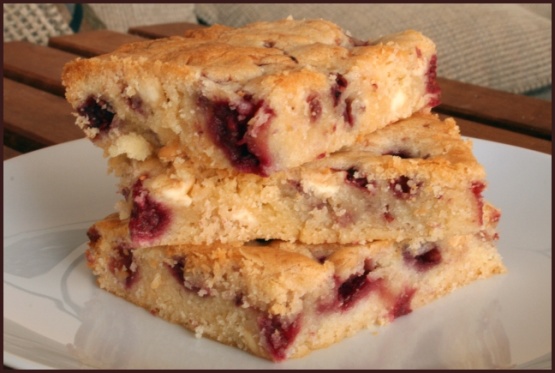 I've been looking for a white chocolate and raspberry cookie recipe for ages... This hits the sweet spot. These are soft and fudgy white brownies, dotted with red raspberries. They can be made up to 3 days ahead and stored in an airtight container at room temperature.

Decadent! These are so rich and moist. I love to make goodies for my co-workers and this is one of their all time favorites. I have made this recipe several times and it always turns out perfect, just don't let the raspberries thaw before adding to the mix. I always double the recipe and bake in a 9 x 13 pan for 60-70 min until tests done.
Preheat oven to 325 degrees F. Butter 8-inch non-stick square baking pan. Stir 6 ounces white chocolate in large metal bowl set over saucepan of simmering water until melted and smooth, or use a microwave. Set aside to cool slightly.
Stir flour and salt in small bowl to blend. Set aside. Using electric mixer beat sugar and butter in large bowl to blend. Mix in eggs, vanilla and almond extract. Mix in melted white chocolate. Stir in flour mixture just until blended - do not overmix. Stir in white chocolate chips. Gently stir in raspberries just until distributed evenly. Transfer batter to prepared pan, spreading evenly.
Bake until top is golden and tester inserted into center comes out with moist crumbs attached, about 40 minutes if using fresh raspberries or 45 minutes if using frozen raspberries. Cool in pan.
Cut into 16 squares. Transfer to platter and serve.