Raspberry and Pistachio Eton Mess
Nif_H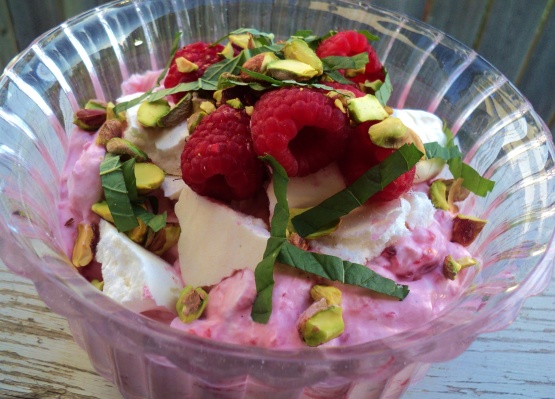 A fabulous version of the famous British dessert. I saw it in an issue of Food & Wine and immediately knew we had to try it. Delicious! You can also use store-bought meringue as a shortcut.

Top Review by Nif_H
WOWWWW!!! This was just fabulous! After seeing this recipe so many times on the British show - Come Dine With Me, I just had to make it! I rarely make recipes exactly as listed, but I did for this one! It takes some work but it would be terrific to make ahead and it would impress guests for sure. It's being devoured by teens right now and I love it too! I would make this again, even if just to make the wonderful meringue! Thank you for posting this fresh and delicious dessert. Made for ZWT8. Thanks Starrynews! :)
For the meringue: preheat the oven to 225 and place parchment paper on two large baking sheets. Beat the egg whites to the soft peak stage. As you continue to beat the egg whites on medium speed, gradually add sugar. When stiff glossy peaks form (about 5 minutes), reduce speed to low and add cornstarch and vinegar. Beat mixture for 20 seconds on high. Spread the mixture in 9" rounds on the baking sheets. Rounds will be about 1/2" high. Bake until the meringue is dry and crisp, about 3 hours. Let meringue cool before making the Eton Mess.
Prepare the whipped cream by whipping the cream to soft peak stage. Add 1/2 cup powdered sugar and vanilla seeds. Whip the mixture until firm peaks form.
Reserve one quarter of the raspberries. Combine the remainder with 1/4 c powdered sugar, and coarsely mash. Gently fold the raspberry mixture into the whipped cream.
Crumble the cooled meringue. Reserve 1 cup of meringue and mix the remainder into the raspberry whipped cream mixture.
Spoon the whipped cream mixture into individual bowls.
Top each with some of the remaining meringue, the whole raspberries, pistachios, and mint.