Raspberry Almond Jam Bars
moxie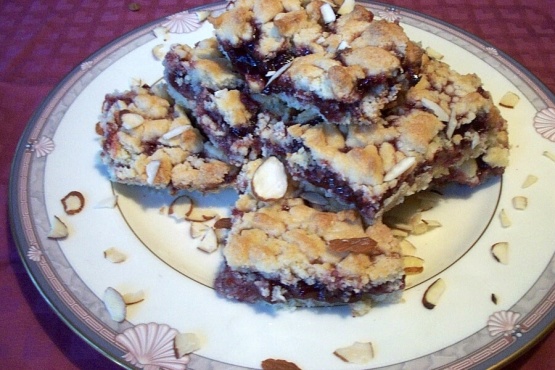 This is a childhood recipe from my aunt, a wonderful desert for showers can be cut into large squares of little squares

Absolutely yummy! I used an 8 x 11 pan and pressed 3/4ths of the dough in the bottom. I topped the dough with 11 oz. of Marionberry jam and topped the jam with sliced almonds before crumbling the remaining dough over it to finish. The almonds, jam and buttery crust are a perfect combination! Thanks for sharing, Pumpkie!
709.77

ml flour

236.59

ml sugar

2

large eggs, beaten

4.92

ml baking powder

118.29

ml butter

118.29

ml shortening

9.85

ml almond extract

226.79

g jar raspberry jam (small or large size depending on how much jam you like)
Combine flour, baking powder, sugar, shortening and butter mix on low speed add beaten eggs and extract can mix with mixer on low or by hand will form a dough divide dough in half and spread half on bottom of ungreased pan 11 x 7 pan pressing dough down with your knuckles spread layer of jam.
Then crumble remaining half of dough into little balls and sprinkle over the entire layer of jam bake at 350° for 25-30 minutes until top layer of dough is lightly browned.
You can use any type of jam you prefer.