Ras Malai (Indian cheese balls in milk)
abu noor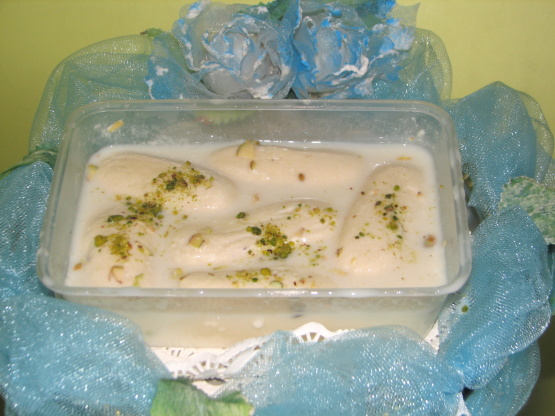 This is an Indian dessert treat The recipe is from A taste of Palace Life Royal Indian Cookery The prep time includes time for chilling before servingby Manju Shivra.

Sorry Steve from Long Island. Cottage Cheese is not American Cottage Cheese. You would want Paneer. You heat whole milk and add lemon or a tiny bit of vinegar until it curdles. Then drain all liquid out and hang in cheese cloth overnight. I am sure you can find more thorough instructions of how to make paneer on line.<br/><br/>"This recipe calls for cottage cheese. When I purchased a tub of cottage cheese and tried this recipe, the cheese ball mixture came out too runny to form balls (was like a runny cake batter). Is there a specific brand of cottage cheese that should be used for this recipe that has less liquid? --Or should it have been mentioned in the recipe that it should be hung overnight so the liquid drips out?"
Put the milk into a large pan with the sugar.
Crush the cardamoms and add to the pan with the saffron.
Simmer the mixture over a medium heat until it has been reduced by half and thickened slightly.
Turn the heat down as low as possible under the pan.
Beat the cottage cheese and flour together, divide into six or eight portions and roll these into balls.
Flatten each one slightly and drop them into the pan of milk.
Simmer for 10 to 15 minutes.
Remove the pan from the heat and carefully transfer into a serving bowl.
Cool completely, then stir in the rosewater or kewra essence.
Chill.
Just before serving, chop the pistacchio nuts and sprinkle over the top.