Ras El Hanout - Moroccan Spice Mix
Annacia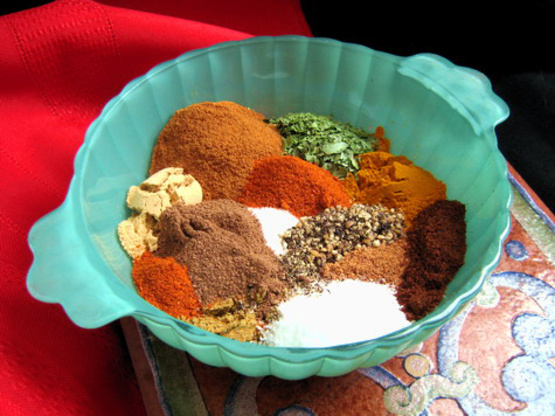 Ras el Hanout ( "top of the shop" ) is a spice mixture from Morocco that can contain anywhere from 10-100 different spices. After checking cookbooks & searching online I decided on this combination for this spice mix.

Can't believe I didn't review this right off the bat the first time I made it. Noticed while making a huge batch for the six children for Christmas ( along with my special kashi pilaf recipe). Anyway this is a fabulous blend for use on lamb, pork , chicken. I like to rub it into lamb shanks and braise slowly for 3 hours or so. Then I pull the meat, add a little more seasoning and incorporate in pilaf finished with a brown butter sauce ( also seasoned with R-E-H) to which I have added scallion, pistachios, garlic and some preserved lemon among other things. My children go wild over this so each is getting a pilaf starter set for Christmas...this spice blend, some pistachios, a box of Kashi and a jar of preserved lemons. Thanks so much for turning me on to Moroccan cuisine !
Mix all the spices together.
Store in an airtight container.