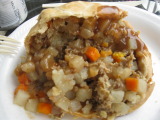 Use in place of tartar sauce. Especially good with fried catfish or deep-fried green beans.
Make and share this Randy's Remoulade Sauce recipe from Food.com.
Directions
Mix all ingredients together well.
Use as desired.
Store tightly covered in refridgerator.
Reviews
Most Helpful
My son enjoyed this with chicken nuggets, and I enjoyed it with roasted leeks and potatoes. The horseradish was a nice touch, and a nice change for me. Thanks Randy!