Randy's Old Time Beef Stew
Ackman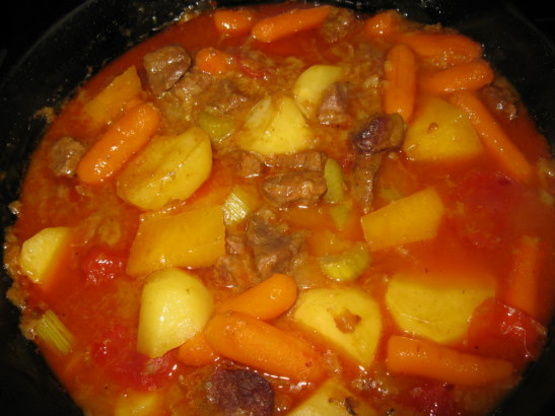 I LOVE BEEF STEW....I can eat it year 'round!!! I prefer to make in the oven instead of on top of the stove.
Preheat oven to 325°.
Dredge meat in seasoned flour & brown in hot oil.
Add water, Worcestershire sauce, garlic, bay leaves, onion, salt, sugar, pepper, paprika, and allspice.
Cover and bake 1 1/2 hours .
Remove bay leaves and garlic clove.
Add carrots and celery. & (optional rutabaga &/or stewed tomatoes).
Cover and cook 45 minutes longer or until vegetables are tender.
To thicken gravy, combine 1/4 cup cold water and the cornstarch until smooth.
Slowly mix into the stew until desired thicknes.
Stir and cook over medium high heat until thick & bubbly.
ENJOY!