Ranch Tuna Stuffed Tomatoes
Kathy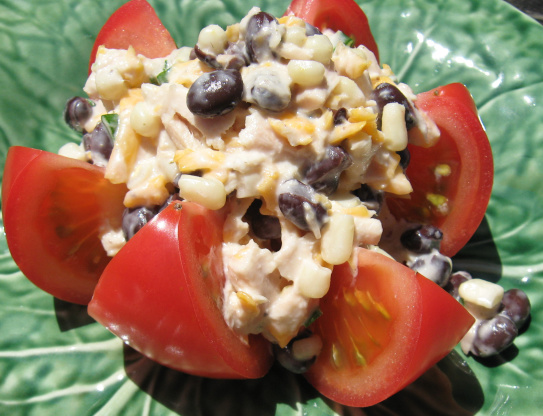 Haven't made this yet but it sounds perfect for a hot summer night ! Recipe from Hidden Valley. Prep time does not include 1 hour chilling.

Lorac, When I found this recipe, I couldn't wait to try it. It sounded good and looked good, but I was somehow disappointed with the end results. Lorac, I certainly hope you won't hold it against me, that I wasn't able to give this recipe more than the one star. I am however pleased to see the others here enjoyed the salad. Anyway, I do want to thank you for posting the recipe!
Combine all ingredients, except tomatoes, and chill 1 hour.
Core tomatoes and scoop out centers to remove seeds and flesh.
Slice each tomato into 5-6 wedges without cutting through the bottom.
Gently open up the tomatoes and top with the tuna mixture.