Ranch Style Beans With Okra
ChefLee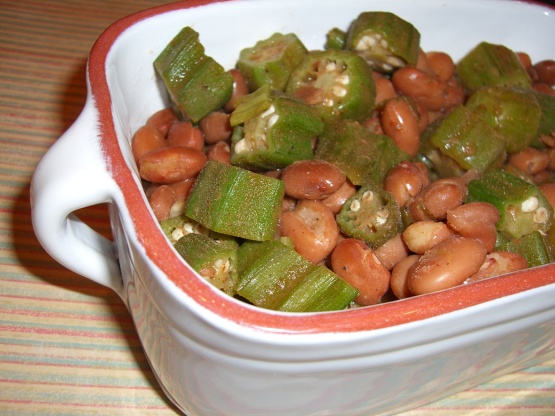 An extremely easy but delicious dish assembled for a barbeque side dish. The flavor is great and it makes a wonderful accompaniment to any grilled meat.

I was looking for something new to do with an abundance of fresh okra & spotted this recipe. I am so glad I did as I will make this again in the future! I had to make changes due to using fresh okra. I used 1 and a half cups of sliced okra, one onion, 2 cloves of garlic, and 1 T of olive oil in a skillet. I cooked that until the okra & onions were softened (about 10 minutes) and then added one can of Ranch style beans with jalapenos & a half cup of water. That simmer until the liquid was reduced & everything cooked. It was delicious! Served with Recipe #357265.
2

(850.48 g) can pinto beans

425.24

g can okra

425.24

g can ranch-style beans with jalapenos
Simply combine all ingredients in a medium-sized sauce pan and bring to a boil.
Reduce heat and simmer for 20 minutes or until thoroughly heated.