Ranch Stew Aka Cowboy Stew
2Bleu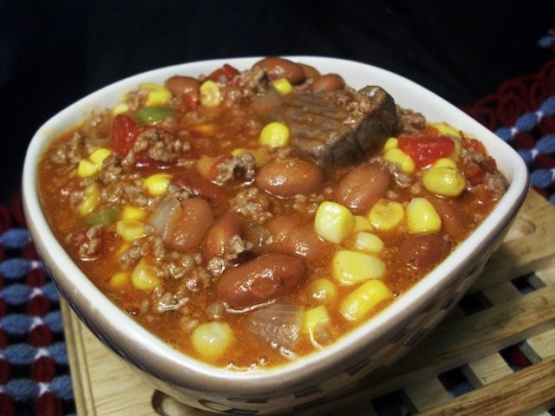 This is one of my family favorites that I have made for years. It is super easy to throw together and contains ingredients that I always have on hand. When I make this I have to double the recipe because it tastes even better the next day! Ranch Style beans are a western style pinto bean made with a flavorful sauce. They add a lot of the flavor to this recipe so try not to substitute them if possible.

My recipe for Cowboy Stew is the same as yours except that mine calls for potatoes. The potatoes give the stew a gravy when they start to break down from being cooked. I don't think the recipe would be the same without the ranch beans and I add two cans when I need to strech the recipe. To give it an extra kick, I have used the ranch beans with jalapenos, but it is kinda hard to find them in the store. Thanks for posting!!
Brown the meat with the onion, green pepper and garlic. Do not drain.
Add undrained vegetables and and seasoning.
Simmer a minimum of 20 minutes.