Ranch Sausage and Rice Casserole
Shawn C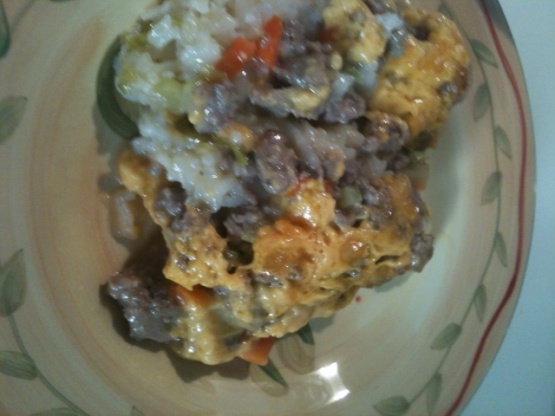 AWESOME! Truly a man's dish! A favorite dish in our family and often requested. I use original long grain converted rice by Uncle Ben. Great flavor!

This is really yummy! I used brown rice instead of white. I was out of chicken broth so I used 2 1/4 cups water but added 3 chicken cubes. I also boiled the water/broth, soup and ranch (2tsp) before pouring over the sausage to help cook the brown rice a little faster...see Alton Brown's brown rice recipe. :-)
In a large saucepan brown sausage, drain well and crumble. Set aside. In same pan saute onion and celery in 1 teaspoon oil. Mix in carrots and sausage.
Place uncooked rice in bottom of a 9 x 9 or 3 quart baking dish. Place sausage mixture in baking dish on top of uncooked rice.
In a medium size bowl mix soup, chicken broth, water, dry ranch mix and salt. Pour over sausage mixture and cover with foil.
Bake in a 350 degree oven for approximately 50 minutes.