rpgaymer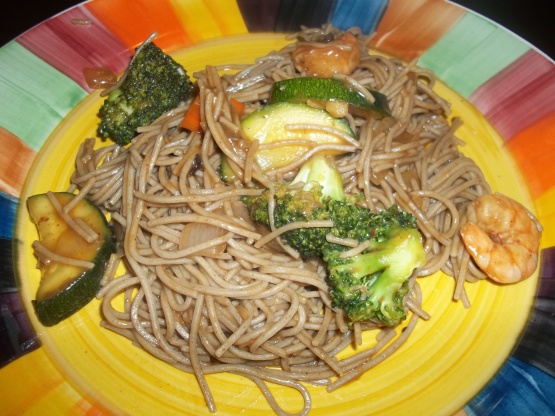 This is another one of the recipes I found in my KCTS cooks 2003 cookbook...it was sent in by Chef Nga Bui from the "Noodle Ranch" restaurant in Seattle...It says that she had turned down a request for the recipe from Bon Appetit but supports public television by sharing the recipe with them.
Pretty good. The sauce combination was nice, and the assortment of veggies were just right. I added sriracha sauce for spiciness, and used fish sauce instead of soy sauce - just personal preferences. Next time I'd cut down the amount of noodles to 8oz, as it was a huge amount. [made & reviewed for rookie recipes]
Mix sauce ingredients together.
Add 2 tbls oil to hot wok.
Stir fry meat, then add onion, fresh ginger and garlic.
Add vegetables and cook until tender.
Add sauce; add noodles and stir fry.
Do not add water.
To serve, top with green onion.