Ranch Marinated Oven-fried Chicken
JustJanS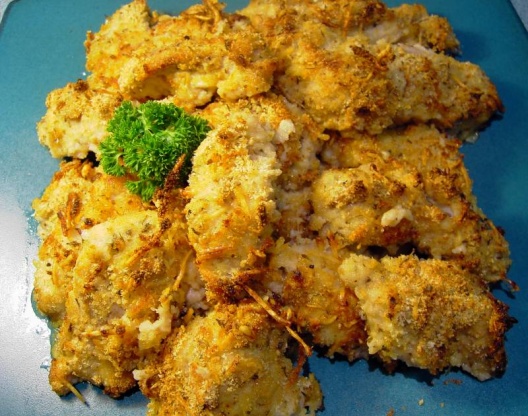 I made this for our dinner tonight. I'm sure I've seen similar recipes on here, but couldn't find one exactly the same. I had a cup of buttermilk, and a half envelope of ranch dressing mix, and as I hate waste, I went from there to create this. Prep time doesn't include marinating the chicken.
This makes a great everyday chicken dish. I started out at 400 degrees and after 10 minutes lowered the temperature to 370. I marinated for an hour ( I always forget about starting the marinade earlier.) It turned out super! Made for Austraia Day cooking tag game.
Prick the thigh cutlets all over with a fork.
Mix together the buttermilk, ranch dressing mix and hot sauce.
Marinate the chicken for at least 1 hour and overnight if you wish.
Preheat your oven to 200C.
Mix together the remaining ingredients (except spray oil) in a large bowl and dip the marinated chicken pieces into this, pressing on well.
Place on a baking sheet, spray with oil and cook for about 40 minutes or until the juices run clear, reducing the oven to 180 after about 10 minutes.
We ate this with a garden salad, and oven baked wedges.