Ranch Dressing and Dip Mix in a Jar
Mandy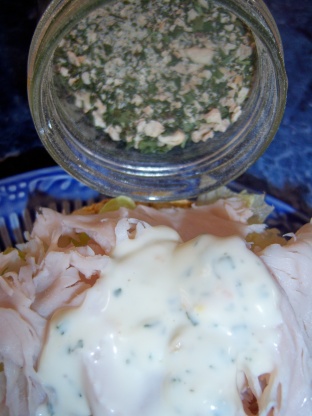 Adapted from a Meal Master recipe, this will make a great gift in a basket with the spices, a nice salad bowl, salad tongs, maybe a pretty small pitcher for pouring the dressing or a nice dip bowl. Have fun!

Top Review by JGB18
I prepared the "dressing" option of this recipe and it was not a real winner. The average rating from my family was 3 stars. Although my family can be pretty finicky, I thought this assessment was generous at best. First, the the dressing recipe was too thick to realistically use as a dressing. Second, the crushed crackers gave it an uneven consistency that was not good for a dressing or dip. Third, and most importantly, the combination of a large amount of added salt, saltine crackers, and salt already resident in the ranch mix made a recipe that was VERY salty. I thought the complex flavors would make a unique dressing, but I think you will get a better result at less time and expense by using a store-bought bottle or package.
Mix:.
Combine all of the ingredients and store in an airtight container.
Makes 1/4 cup.
Dressing:.
Whisk all of the ingredients together. Refrigerate one hour before serving.
Makes 1 cup.
Dip:.
Combine and chill 2 hours before serving. Serve with raw vegetables, assorted chips, or as a topping for baked potatoes or steamed vegetables.
Makes 2 cups.