Ranch Cupcake Meatloaf With Hidden Gems #RSC
Rita1652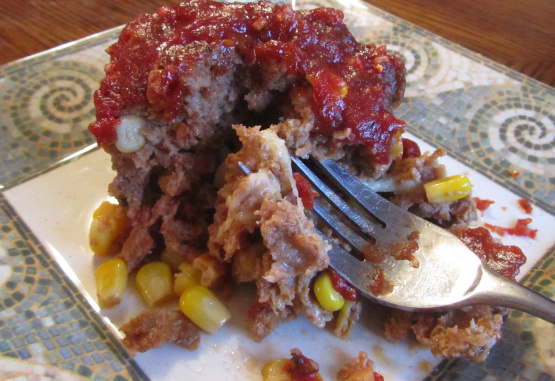 "Ready, Set, Cook! Hidden Valley Contest Entry" This recipes makes 9 large Cupcakes studded with corn, stuffed with gooey cheese and topped with a sweet tomato glaze. Hidden in the loaf is veggies the kiddies and fussy husbands wouldn't know are inside. Making these healthy for your family. Great to make ahead, will freeze for those busy days, or pack and bring to work for lunch.

I absolutely love meatloaf and this one is fantastic!
Preheat oven to 350 degrees.
Spray 2 jumbo 6-cup muffin pans.
Place carrots, mushrooms, onion and garlic in a food processor and process till very fine.
In a large pan melt butter add the processed duxelle mixture and cook over medium heat 10 minutes, stirring when needed add the tomato paste and cook 5 more minutes. Toss in thyme and the frozen corn and set aside to cool.
In a large bowl mix the meats, eggs, Worcestershire sauce, hot sauce, and 1/2 of the ranch seasoning together add the duxelle with corn to the meat mixture and mix with clean hands.
Divide the mixture in half and place in 9 of the muffin cups place in one ounce cheese in each half filled muffin. Top with the reminder of meat. Pressing down to smooth top.
Bake in preheated oven 25 minutes when meat registers 155 degrees.
Meanwhile mix the glaze ingredients together adding the other half of the seasoning. Set aside.
Remove from oven. Set oven to broil.
Brush all the glaze on the muffins.
Broil till bubbly.
Enjoy.