gailanng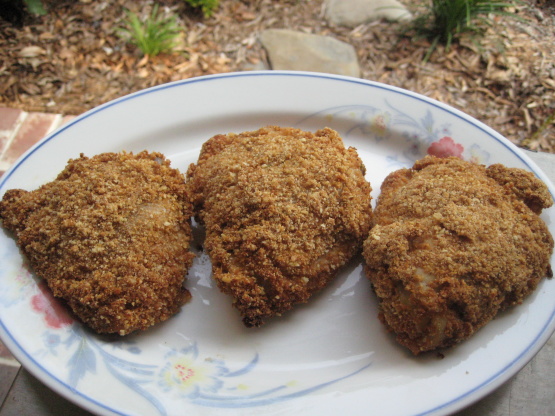 Needed a quick & easy weeknight meal. This is adapted from an old Taste of Home magazine. The chicken is tasty & juicy, with a nice crunchy crust. You won't miss the skin! ETA -- some say this is too bland. The ranch dressing is not enough seasoning. I do add season salt to taste (Nature's Seasonings) to the bread crumb mixture for more flavor. Hopefully as a cook, you will know what to add to suit you and your family's taste.

I can't get over how easy and totally delicious these chicken thighs were. Dipping the thighs in the Ranch dressing is genius. The coating was very nice too. Gave them a little crunch. Thanks Kelly. A new enthusiastic family fav. UPDATE: Sorry, I forgot the stars. So here it is again--same review but with stars. ;)
In a shallow bowl, combine crumbs, Parmesan cheese, cornmeal, Italian seasoning, and seasoned salt.
Dip chicken into salad dressing, then coat with crumb mixture.
Place chicken in a greased 13x9 baking dish.
Bake, uncovered, at 375 degrees for 45 minutes or until juices run clear.