Ramps and Hake Grilled on a Cedar Plank
PaulaG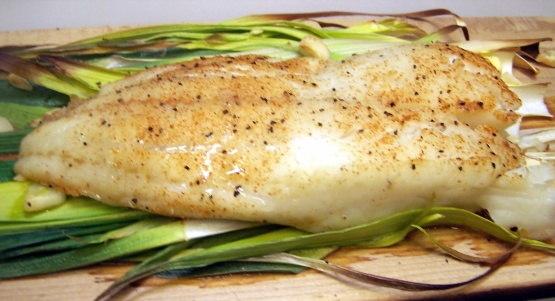 Ramp, are also wild leek, is a wild onion native to North America. Though the bulb resembles that of a scallion, the beautiful flat, broad leaves set it apart. The flavor and odor of ramps is usually compared to a combination of onions and garlic, and the garlic odor is particularly strong. You can grill on foil if you choose or bake

Just got back from staying at a Vineyard B&B in Traverse City where we picked wild ramps growing in the woods on the property, which we used in this very simple to prepare, fresh tasting recipe. I used cod, as hake was difficult for me to find around here. Minced a few cloves of garlic, which I rubbed onto the fish and ramps. My cedar planks must not be very large, as I had to use one for the fish and one for the ramps. We really enjoyed the taste of the grilled ramps, especially. Both the cod and the ramps really picked up the cedar flavor from the planks. Thanks for an easy, guilt-free dinner. This was perfect for a weeknight meal.
Preheat grill to high.
Rub the fish and the ramps with olive oil, season with garlic, salt and pepper.
Place on a soaked cedar plank place on a preheated grill med high heat.
Cook by indirect heat method until desired doneness is achieved.