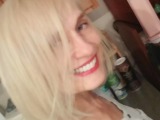 From the November 1988 issue of Cook's magazine. I used to drink these in Berkeley, back in the day!
Directions
Reserve a 1/4-inch-by-2-inch strip of lemon zest for garnish.
Squeeze 1 tablespoon lemon juice into a shaker.
Add the egg white, orange flower water, cream, sugar, gin, and crushed ice. Shake the mixture until foamy and smooth, about five minutes. Alternatively, mix in a blender set on high speed for 1-1/2 minutes.
Strain into an 8-ounce highball glass.
Add club soda, garnish with a lemon twist, and serve immediately.