Lt. Amy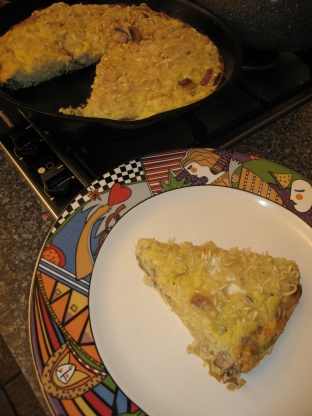 This recipe comes from Light & Tasty October/November 2004. It totals 5 points per serving. This recipe is great for new cooks, people on a budget, and families that need quick affordable meals.

Pretty good and a great way to get rid of extra Top Ramen that always ends up in the house. Be sure to serve with a salad or something else as it is a bit dull all on its own. added: my boyfriend had this the day after and said it was better the second day. Warming it up in the microwave helped to firm up the dish.
2

(3 ounce) packages ramen noodles
1⁄2 cup thinly sliced celery

2

teaspoons canola oil (any you may have on hand works fine too)

1

(8 ounce) packagesliced fresh mushrooms

4

tablespoons green onions, thinly sliced, divided

2

tablespoons minced fresh gingerroot (dried works also)

3

eggs

6

egg whites

1

teaspoon sesame oil
1⁄2 teaspoon sugar
1⁄2 teaspoon salt

2

tablespoons reduced sodium soy sauce (regular soy sauce can be used, 1 tablespoon soy sauce mixed with 1 tablespoon water will yield same)
Save seasoning packets from ramen packages for another recipe.
Cook noodles as directed on package.
Drain and rinse noodles in cold water and set aside.
In a large oven proof skillet, cook celery in canola oil for 1 minute. Stir in mushrooms, 2 tablespoons green onions, and ginger.
Continue to cook and stir for 7 minutes or until mushrooms are lightly browned.
Stir into noodles.
Whisk the eggs and egg whites, sesame oil, sugar, and salt.
Stir into noodle mixture and spread into even layer in skillet.
Cook on medium for 2 minutes.
Preheat oven to 350 and bake uncovered for 10-12 minutes, until set.
Cut into wedges.
Garnish with remaining green onions.
Drizzle with soy sauce.