Ralf's Pretty Good Olive Salad
Parsley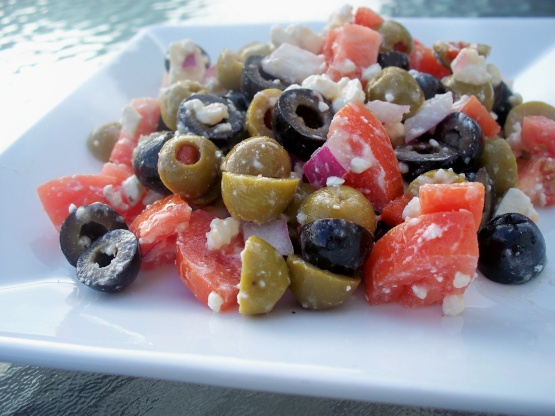 This is another one I got from my good online friend and co-moderator, the man known as Ralf Kramden. I've adapted it just a little to suit our tastes, but the basic recipe is his. It's pretty easy, and one of those things the family wants at every gathering. Prep time is a guess, since it depends on how quickly you can chop the olives, cook time is refrigeration.
Drain olives and chop in half.
Core, seed, and coarsely chop the tomatoes.
Put all ingredients in a large bowl, and mix well.
Best when served after being refrigerated for at least a couple of hours.
I sometimes add kalamata olives if I have them onhand for a slightly different taste, or sometimes I use the"Mediterranean" flavour feta cheese instead of plain.