Rajma (Indian Red Kidney Bean Curry)
Naomi J.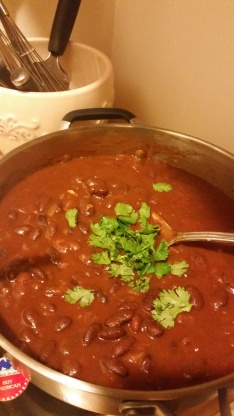 This is a quick and easy curry made from red kidney beans. Served with either naan (flatbread) or rice. Rajma masala is sold at most food stores in the international section.

Wow - this was simple and delicious! I used 2 cups of pre-soaked kidney beans which is about the equivalent of a 1 ounce can (just a little more). I cut all of the ingredients in half except for the spices. I didn't have gingerroot so I substitued 1 tsp ginger and used tandoori masala instead of rajma masala because it was all I had on hand. It was still a delicious dish and I will use again - thank you :)
In a medium pot, heat oil. When hot, add cumin.
Once the cumin begins to brown, add the garlic and ginger. Let it cook for 1 min, stir constantly.
Add onions and stir until onion turns clear and add the tomato sauce.
Keep stirring the sauce until it's slightly thickens and begins to separate a bit from the oil.
Add the Rajma masala, salt and chili powder and stirl for 2-3 minutes.
Last, throw in the two cans of kidney beans, undrained. Let it cook for 5-6 mins, stirring occasionally.
You adjust the spices accordingly, while tasting along.
Serve with some sliced onions, a lemon wedge and garnish with some chopped coriander. Enjoy!