Thorsten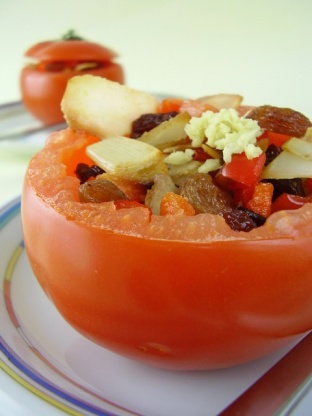 Sweet and pungent raisins and garlic garnish the perfect tomato for a dish to serve anytime! The juicy flavors will burst into your mouth with every bite.

Top Review by Mrs B
It takes a lot of hard work to devise a recipe for RSC; because of this I wish I could give this dish at least another star. It certainly looks very attractive, but for us it didn't quite have that certain something. Perhaps I under seasoned the stuffing or perhaps tomatoes aren't flavoursome enough at this time of year. I had quite a bit of raisin stuffing left over so used it next day as the base for a spinach curry.
Soak raisins to plump in warm water 5 to 10 minutes. Drain.
Cut garlic cloves in half. Chop red pepper.
Drizzle olive oil over peppers, raisins, garlic and coconut and stir to cover. Add a dash of salt and roast in 375 degree oven for 30 minutes, till well roasted.
Cut tomato tops off and scoop out centers.
Stuff tomatoes with roasted raisin stuffing.
Bake in 350 degree oven for 15 minutes.
Grate ginger over each tomato just before serving.