Irmgard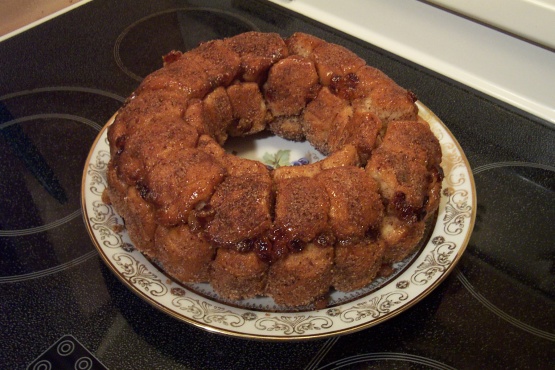 I made this for the first time for Christmas breakfast. My husband loved it so much that he keeps asking me to make it again! It's a fun recipe to make, especially if you have little ones - they can help. Please note that the preparation time includes the time that it takes for the dough to rise.

WOWW!! this was amazing. Yesterday was the first time i made bread. I made a loaf in the bread machine and this by hand. I could not have chosen a better recipe to amake on my first day. It was soo easy to make...i didn't have any problems. I preheated my oven to 200 degrees F and turned it of just before putting the dough to rise. It rose beautifully!!! And even before baking it, the house already smelled like bread!!! :P I used only half the amount of butter/sugar/cinnamon for coating because i thought it wasn't going to be necesary...and indeed we did not miss the extra calories. I also kneaded the raisins into the dough and it came out tasting really good. It tasted soo good that i ended up eating atleast 5 pieces when it came out of the oven, and another 4 pieces in the morning with some cold milk. All i can tell you is that this is sinful!! And i advice you that if you do not have a strong will power and are in a diet, DO NOT, I repeat, DO NOT make this recipe. I am 2 pouns heavier today than i was yesterday...and yes it is possible that thanks to this sinful bread I am going to have to buy another dress for the event I have in two weeks!! Hahaha...well all in all, the texture was amizing, it was so light and fluffy that your fingers would simply sink into the bread as soon as you touched it. The flavour was sweet but not overpowering. And the pecans added a nice crunch to the soft bread. Thank you so much for posting this recipes, I am all about doing everything from scratch and most of the recipies in Zaar are made with canned biscuits. THANK YOU for my new favourite recipe!!! <3
In a 1-quart saucepan heat the milk until it just comes to a boil; stir in 1/4 cup butter until melted.
Cool until just warm (105 - 115°F).
In a large mixer bowl, dissolve the yeast in warm water.
Add the cooled milk mixture, 2 cups flour, 1/4 cup sugar, egg and salt.
Beat at medium speed, scraping the bowl often, until smooth (1 to 2 minutes).
By hand, stir in enough of the remaining flour to make the dough easy to handle.
Turn the dough onto a lightly floured surface; knead until smooth and elastic (about 10 minutes).
Place in a greased bowl; turn the greased side up.
Cover, let rise in a warm place until doubled in size (about 1-1/2 hours.).
The dough is ready if an indentation remains when touched.
Punch down the dough; divide in half.
With floured hands, shape each half into 24 balls.
In a small bowl stir together 1 cup sugar, pecans and cinnamon.
Dip the balls first into the melted butter, then into the sugar mixture.
Place 24 balls in the bottom of a greased 10-inch tube pan or Bundt pan - if using the tube pan, line the bottom with aluminum foil.
Sprinkle with raisins.
Top with the remaining 24 balls, after dipping them into the butter and sugar mixtures.
Cover; let rise until doubled in size (about 45 minutes).
Heat the oven to 375°F.
Bake for 35 to 40 minutes or until the monkey bread sounds hollow when tapped.
Immediately invert the pan onto a heatproof serving plate.
Let the pan stand 1 minute to allow the sugar mixture to drizzle over the monkey bread.
Remove the pan; serve warm (leftovers can be reheated nicely in the microwave).