Tom H.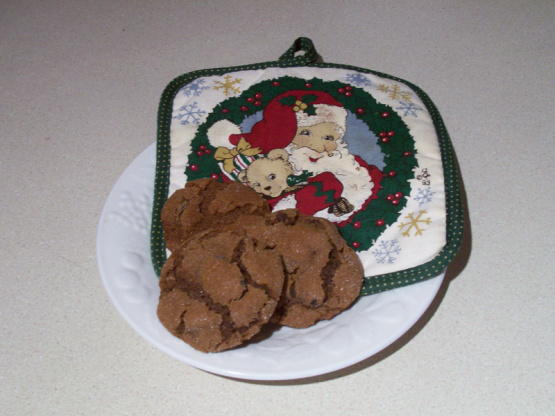 Here's a great variation on the classic gingersnap. I found this recipe in ony of my mom's old cookbooks, the "Clarks Mills United Methodist Church Centennial Cookbook: 1883-1983," and comes from one Eleanor (Redfoot) Creddle.

Unfortunately these did not turn out as I had hoped. Although I chilled the dough for more than one hour it was still too wet to handle. Thus, no rolling by hand but rather dropping by a scant tablespoon.
This made 54 cookies and they baked for 9 minutes. They were soft when done and they stayed soft, to the point that they caked together in the cookie jar. I must say that the taste was nice, the spices gave them a kick, the raisins upped the cookies, I certainly do not regret trying them out.
Thanks for posting.
Combine shortening, sugar, egg and molassas. Beat until incorporated.
In a bowl, combine flour, baking soda, salt, ginger, cinnamon and cloves. Slowly add to your mixer. Mix until combined. Add raisins, mix on low speed until incorporated.
Chill in the refrigerator for 1 hour.
Heat oven to 375 degrees.
Shape dough into small balls (about 1 inch), roll in sugar.
Place on lightly greased cookie sheet. Bake for 8-10 minutes.
Remove and cool.