Raisin Bran Cereal Healthy Muffins
Sageca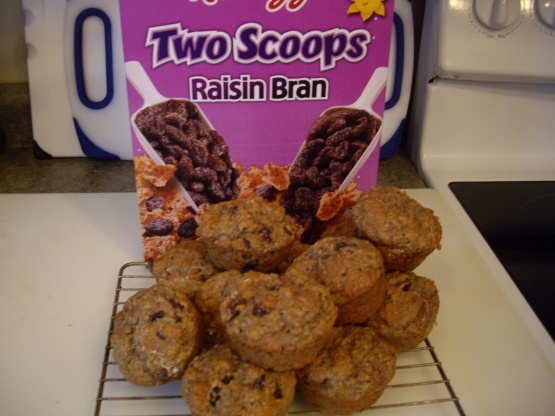 These will come out as a pleasant healthy surprise. These are not too sweet; perfect for breakfast.

Does any one review these recipes? Where do you add the Splenda ? Who ever heard of sticking a knife into a muffin to check for doneness. Maybe a toothpick would be a better choice. Shame on Food.com
Preheat oven to 375 degrees F. Spray with non-stick cooking spray.
In a large bowl, whisk together the flour, baking soda, baking powder, Splenda, salt, raisins and cinnamon; set aside.
In a large bowl, Combine cereal and buttermilk; let sit for 10 minutes.
Stir in the applesauce, egg, and vanilla extract.
Pour the wet ingredients over the dry ingredients, and stir until completely combined.
Divide the batter between the 12 prepared muffin tins.
Bake 15-20 minutes until knife inserted in middle of muffin comes out clean.
Cool a few minutes; turn on a wire rack.
Enjoy!