Kathy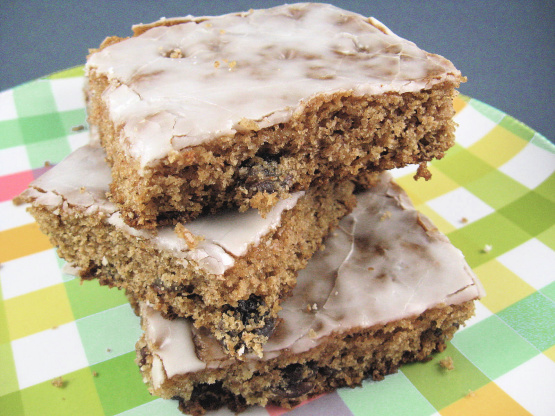 This is my mother's recipe from when we were kids, and the first recipe I prepared solo as a child. My mother's old cookbook still bears the traces of a cooking mishap. I had a little problem with the hot water and a metal bowl. Needless to say, don't pick up a metal bowl with boiling water in it -- it's HOT. Icing the cake while slightly warm is essential, the icing goes on much easier and forms a nice glaze. It's very moist cross between a bar and a cake.

Top Review by Gerry
Another of the recipes I have been making for a good number of years, so often a new printout was needed. In doing so found I had missed reviewing. This has become a real family favorite at our house, no surprise as we all love raisins. Find the old fashioned 'mom' recipes are for most part winners as this one is. Made as posted makes for a lovely moist great tasting bar, the glaze one that I often go to when needing to top a sheet cake. Travels well as a 'make and take' - and always an empty pan! Thank you Kathy.
Heat oven to 375 degrees. Grease a 17 x 11 x 2 pan.
In a mixing bowl, combine the first 9 ingredients. Pour into baking pan.
Bake 20 minutes. If you are using a dark baking pan, check for doneness at 15 minutes. Cool slightly.
Make Icing: Put powdered sugar into a bowl.
In a small bowl, combine water and butter, than add vanilla and syrup.
Add to sugar and beat until creamy, adding water to obtain correct consistency.
Drizzle over slightly warm cake.