chia2160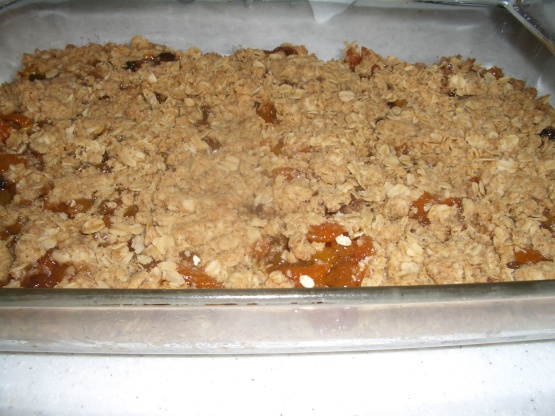 I enjoy making bars & cookies, & have collected recipes for them over the years. Here's one I picked up 30 years ago.

I must say these took a bit more effort than the average bar type treat, but it was worth it I think. I didnt have pumpkin pie spice so I added equal parts cinnamon, nutmeg, ginger, and allspice (about a dash of each). These did taste better the next day as other have mentioned too.
In a saucepan, combine apricots, water, raisins, sugar, lemon juice, cornstarch & pumpkin pie spice, & cook over medium heat, stirring constantly, until mixture boils & thickens. Remove from heat & cool.
Preheat oven to 375 degrees F, & grease a 13"x9" baking dish.
In a large mixer bowl, cream butter & brown sugar.
Add flour, baking powder, salt & rolled oats, & mix well.
Pat half of this mixture into bottom of prepared baking dish, then spread cooled fruit mixture over that.
Sprinkle remaining flour mixture evenly over the fruit & lightly press it down.
Bake 22-25 minutes, or until firm in the center & topping is crisp.
Cool completely before cutting into 2" squares.