Bev I Am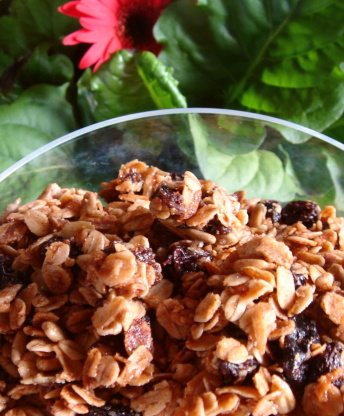 Recipe source: Bon Appetit (November 1991)

Delish! This is such a simple recipe, I don't see any reason to ever buy granola again! I increased the brown sugar just a smidge and I am thinking of adding a few sliced almonds to the mix! I made only half the recipe, so decreased my baking time to only 40 minutes, which was perfect. Thanks, Ellie!
Preheat oven to 275°F.
In a large bowl mix together first 4 ingredients (oats - cinnamon).
Stir in dates and raisins.
In a small bowl mix together butter, honey and vanilla. Pour mixture over oats/fruit mixture and toss for one minute.
Spread granola onto a cookie sheet.
Bake for 1 hour and 15 minutes or until crisp and golden brown.
Cool and store in an airtight container.