Rainy Day Collards and Lentil Soup
Rita1652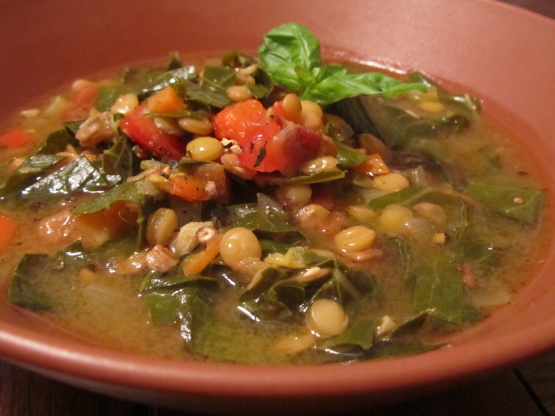 It's raining cold and damp outside. Inside you'll be all warmed up with this savory, comforting, hearty and nutritious soup. Great to make and freeze for those days that are just to busy to cook. Giving a vegetarian option or for meat eaters with bacon. Top with crispy croutons if desired.
In a large pot heat olive oil over medium heat or if using fry bacon till crisp. Set bacon a side.
In the oil or bacon fat saute the onions, red pepper, carrots, celery and garlic till tender about 8 minutes. Adding more olive oil if needed.
Add the collards they will fill the pot but cook down a lot.Season with salt and pepper.
Top with the remaining ingredients. Bring to a boil then simmer for 50 minutes.
Taste to adjust seasonings.
Crumble the bacon if using.
Garnish the soup with one or all , a drizzle of vinegar, olive oil, bacon bits and fresh basil.
Oh! be sure to remove the bay leaf before enjoying.